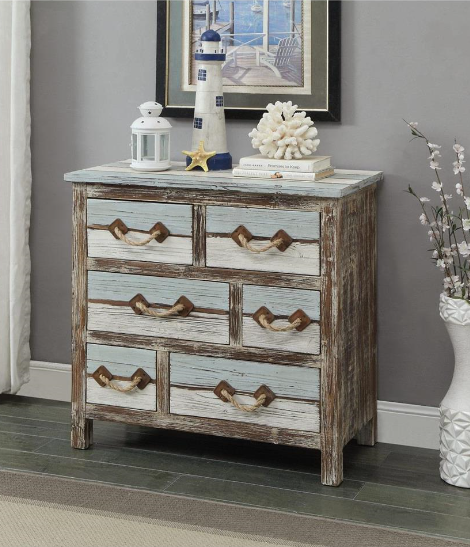 Islander by Coast to Coast. Pieces can be purchased as a complete set or individually. Additional discounts may apply to multi-piece purchases. The more you buy, the more you save!
*Prices subject to change. Call or stop by for your custom quote.
Product Description
Whether in the kitchen, entry, or living area, this Islander Collection will add a splash of color to your décor. Finished in weathered islander multicolor with plank detailing and waves of style, this set is a must have with tons of sea-worthy appeal.
3pc Nesting Trunks: 29″W x 17″D x 19″H
6 Drawer Chest: 32″W x 16″D x 32″H
4 Drawer Chest: 19.5″W x 13″D x 31.5″H
2 Drawer Console Table: 42.5″W x 15.5″D x 32.5″H
2 Drawer Accent Table: 18″W x 13″D x 26″H
Round Seahorse Accent Table: 24″W x 24″D x 28″H
Round Oars Accent Table: 24″W x 24″D x 26″H
Product Prices
| | |
| --- | --- |
| 3pc Nesting Trunks | $39/$89/$129 or all 3 $249 |
| 6 Drawer Chest | $299 |
| 4 Drawer Chest | $249 |
| 2 Drawer Console Table | $249 |
| 2 Drawer Accent Table | $199 |
| Round Seahorse Accent Table | $189 |
| Round Oars Accent Table | $159 |