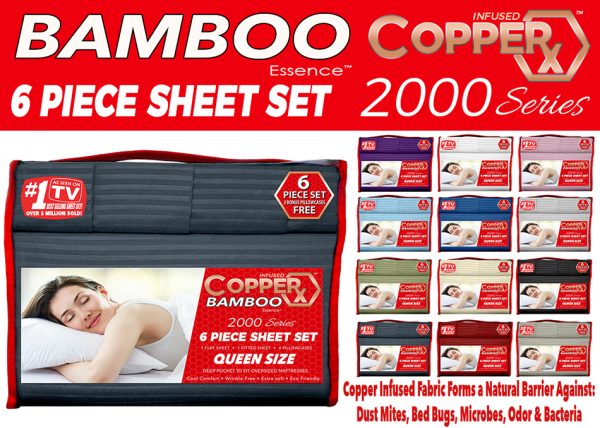 3pc Sheet Set by CopperX. Pieces can be purchased as a complete collection or individually. Additional discounts may apply to multi-piece purchases. The more you buy, the more you save!
*Prices subject to change. Please call or stop by for your custom quote!
Product Description
Available in Twin and Full
CopperX Bamboo Essence
Enjoy a cool and comfortable healthier night's sleep with exceptionally breathable sheets that have a silky soft feel and a lustrous finish. These sheets provide a lasting vibrancy of color no matter how often they are washed and are made of high strength micro fiber CopperX fabric that will stay soft and wrinkle free for years to come.
Each pack includes: 1 fitted sheet / 1 flat sheet / 1 pillow case
Cool Comfort – Moisture Wicking Technology – Hypo-Allergenic Antimicrobial – Machine Washable and Dryable